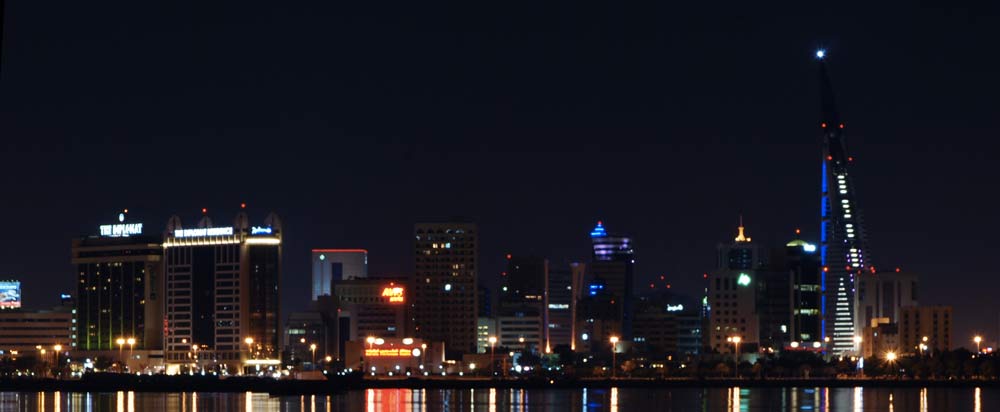 The long and rich history of friendship that the Kingdom of Bahrain and the Republic of India share is founded on trust and a robust trade and business partnership since the time of the Dilmun and Indus Valley civilizations. The unblemished relationship continuing till date with the active cooperation of the Royal Family of the Kingdom of Bahrain. As part of the growing need to serve the people of Bahrain and expatriates way back in 1959 , The New India Assurance Company under the aegis of the Arabian Gulf Agency started Insurance operations in Bahrain in 1959. This agency later evolved into International Agencies Company Ltd(INTERCOL) a multifaceted business group started by Mr Abdul Rahman Ali Alwazzan.
Through these more than 5 decades, the New India Assurance Company with the active support of INTERCOL has been providing service to the Kingdom's growing insurance market as well as to the Indian community.
New India and INTERCOL are proud to take forward the India- Bahrain friendship by way of a time tested association of mutually beneficial relationship for now more than 55 years to render dedicated service to different nationalities, Bahrainis, and Expatriates in General Insurance. Thereafter, in 2002 INTERCOL entered into Sub Agency agreement with JA Zayani & Sons to further the penetration of insurance in Bahrain. With INTERCOL and J.A Zayani & Sons as (Sub Agents) , New India has been achieving impressive business results constantly following its ability to sell need based products and achieve customer satisfaction through three offices in Bahrain.
While the business and day to day activities are managed by the agents under Company's supervision and established Company Guidelines, the core activities, of Underwriting, Claims Settlement, AML & Compliance and Customer Grievance are directly handled by the Company's representative of The New India Assurance Co.
ABOUT INTERCOL
From modest beginnings in 1957 representing a single shipping company, Intercol is today, a well- diversified, 100% Bahraini owned company representing over 200 leading corporations, many of which are blue chip multi nationals like Nokia, Nestle, New India and LIC. Founded by the Late Ali Abdul Rahman Al Wazzan and Mr. Sadiq Mohammed Al Baharna in 1957, Intercol today is managed by Mr. Abdul Rahman ALI Al Wazzan and Mr. Sadiq Mohammed Al Baharna, highly respected members of the Bahrain business community.
Throughout its history, the company has been a major participant in Bahrain's ever growing economy. Built on firm foundations, good customer relations, constant attention to detail and the professionalism of its well trained and qualified workforce, intercol continues to ensure that it keeps abreast of the needs and demands of the kingdom and its people through the introduction of new products, processes and advance technology. To enhance the confidence of principals and customers alike, intercol became the first company of its kind in Bahrain to attain ISO 9001: 2000 certification and ISO 14001: 2004 manage environmental accreditation company-wide.
Intercol operates in the following business areas
Marine & Technical Service Division (MATS)
Shipping Division
General Medicals WLL
Consumer Products Division
International Advertising Agency (IAA)
Gulf Warehousing & Distribution Centre (GWDC)
International Contracting Company
Science and Industry Division (S&I)
Lubricants & Chemical Division
Air Conditioning & Refrigeration Division
Water Treatment Division
International Travel Bureau
Joint Ventures with
New India Assurance Co
LIC international BSC
Danzas AEI Intercontinental
Paramount Computer Systems( Bahrain) WLL
Federal Express
Nestle Bahrain
In 1959, as a part of its initial expansion plans, Intercol identified and realized the potential of entering the insurance business. Spurred by the growth of the economy in Bahrain, Intercol, through an agency agreement associated itself with the New India Assurance Company (NIA) - an undertaking of the government of India and the largest non-life insurance company in India. The agency office is managed by Mr Karunakaran Nair, Dy Manager for its day to day operations.
International Agencies Company Ltd, PO Box 584 2nd Floor, Al-Alwazzan Building, Al-Khalifa Avenue, Manama, Bahrain Tel: 17225158, Fax 17213099 email: [email protected]
About J A Zayani & Sons
J A Zayani are the sub agents for Intercol handling General insurance business for New India Assurance. The founder, Mr. Jasim Al Zayani, a man of great vision continues to lead the group. His visionary skills have indeed been passed down to the present generation. Today the company is in the able hands of Mr. Mohammad Jasim Al-Zayani ( Group Managing Director) and Mr. Nael Jasim Al-Zayani (Managing Director-Kuwait Operations). Jasim Al-Zayani was instrumental in expanding the group's activities by setting up the Kuwait Automobile & trading Co.. Following are the sister companies that are proud to belong to the successful J A Zayani Group. Each company has carved a niche for itself in its sphere of activity. Perfect examples of success being tied up with success.
J A Zayani have business interests in
Consumer Products
Lift and Escalators
Industrial Products
General Insurance
Sister Concerns like
Mohammad Bin Jasim All Zayani Trading
National Property Investments
Bahrain Foam Factory
Bahrain Polystyrene Factory
Mercure Grand Hotel, Seef
S.M.R. Garments LTD
Al Zayani Trading Company, Kuwait
Sands Harbor Hotel and Marina, FloridaAl- Zayani Trading Co. in Kuwait in 1953.
The Sub Agency operations of General Insurance is managed by Mr. Sudhir Shetty, Manager.
J A Zayani & Sons P.O. Box 932, Zayani Tower-2, First Floor, Exhibition Road, Hoora, Bahrain Tel: 17299500, 17291100, 17299504 Fax: 17296322, Email: [email protected]
New India Assurance Co Ltd Building no A 1482, Road no 4131, Block- 941, Sanad, Kingdom of Bahrain. Tel: 17299500, 17291100 17299504 Fax: 17296322, Email: [email protected]